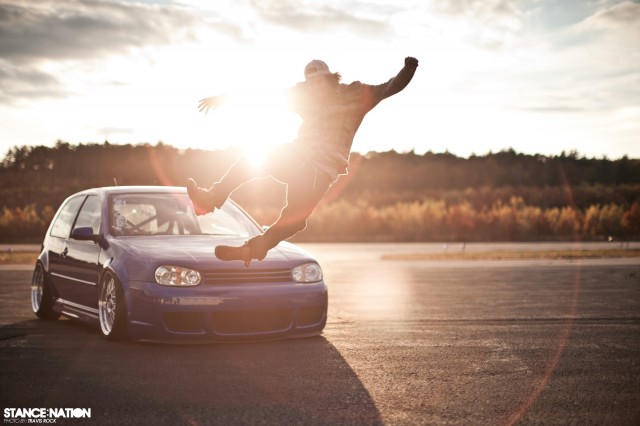 That blue .:R32 on Pink and White Tracer Tech2's". I know you've heard of it, and you've even seen it on our site before, so where did it go? It came back this past season, and better than ever. Patrick Shaughnessy's deep blue pearl .:R32 is a car with a love or hate nature surrounding it, and if you've heard of it or seen it on vortex, chances are you've seen an equal amount of controversy that's gone on about it. Pat sold his Tracer's in favor of something new previous to this past season, and came up with a fantastic new set of wheels, custom widened Rial Daytonas. At 18×8.5 ET15 and 18×10 ET13, these wheels were more or less widened to spec so Pat could achieve some killer fitment alongside his bagyard front and rear bags.
Photos By: Travis Rock exclusively for StanceNation.com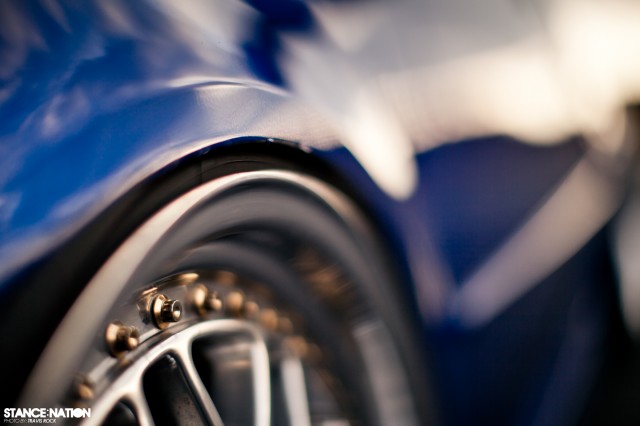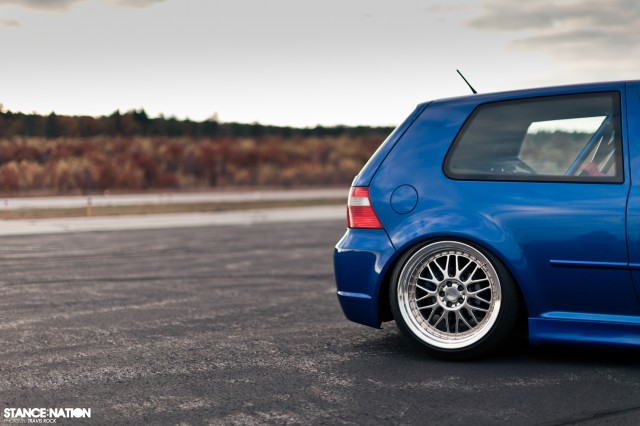 Obviously wheels have always been the crown jewel of this masterpiece, but many other mods tend to go unnoticed. Pat likes his lady shaved head to toe, from the bumper markers and front bumper line, to the rear hatch. Pat's .:R sports heated euro .:R stubby mirrors with blue glass, OEM euro R-line rear bumper, Cupra R lip, and OEM ocean tails to name a few. Oh- and let's not forget those OEM HID's that are likely worth more than your first-born. Maybe even half of your second born.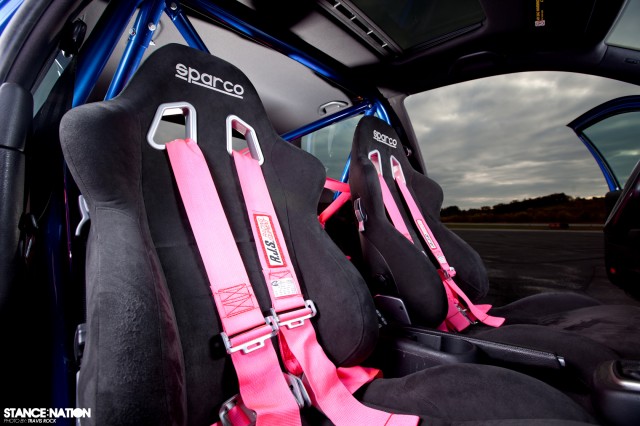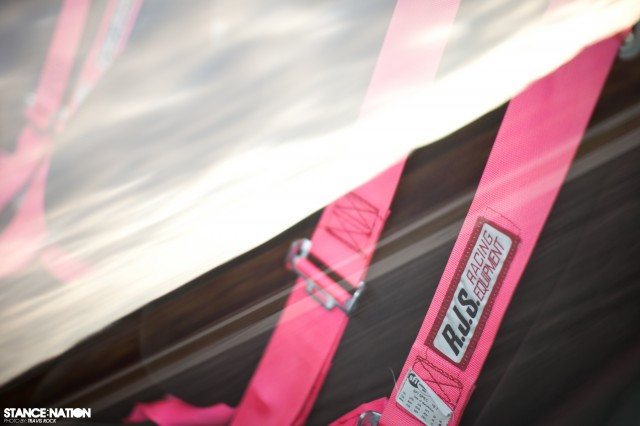 Inside the cabin, Pat brightened things up a bit with his signature pink theme with hot pink 4-point harnesses from RJS racing equipment. One night Pat decided he didn't like the stock .:R seats, so he swapped them out for some Sparco Milano 2's- in a parking lot. Complimenting his .:R line wheel he had a W8 dash as well as the essential euro switch with rear fog (the must-have interior upgrade for all MKIV enthusiasts). An understated and rare piece to Pat's .:R is his Weicher X roll cage color matched in DBP. Pat spent quite some time hunting down this roll cage, and spent an equally long amount of time waiting for it to come stateside. Why a roll cage in a bagged .:R? I'm glad you asked.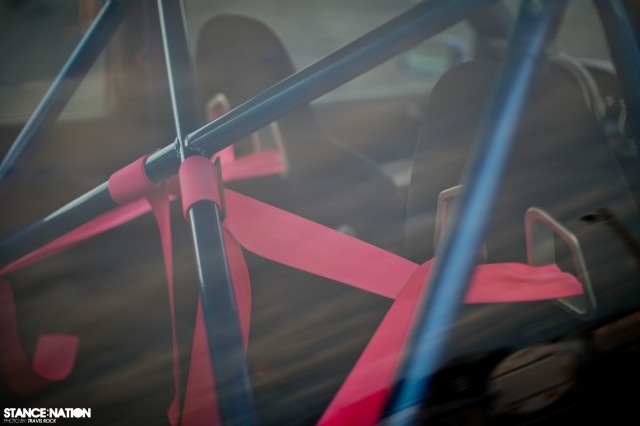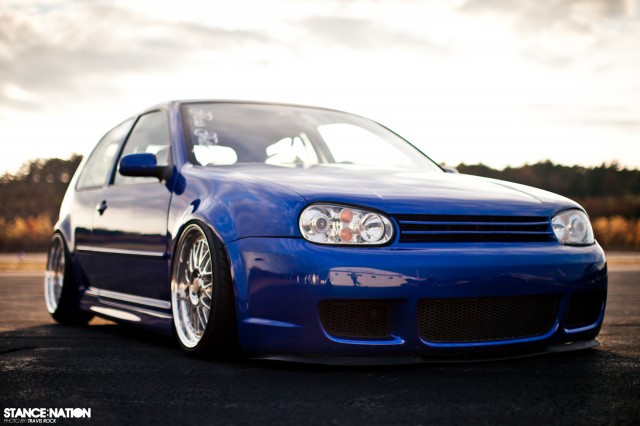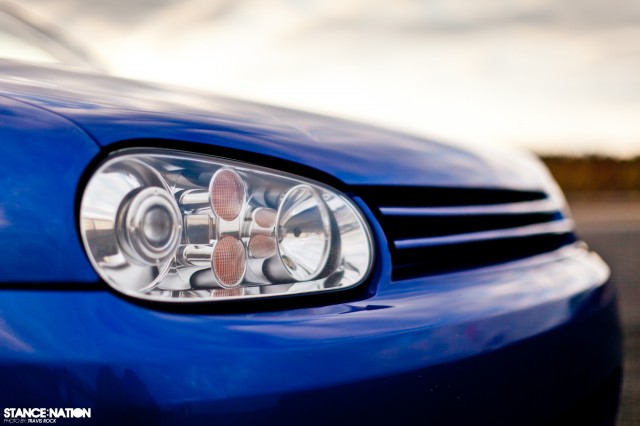 Although some may be scorning and cursing blasphemy at this car already, Pat is knowledgeable in the motorsport scene and its history. I would go into detail, but trust me when I say this, Pat knows what he's doing. Still don't believe me? Pat's previous car, also a MKIV (but a GTI) was the farthest thing from stock a VW could be. The 1.8T was bored and stroked to a 2.0 bottom end and top end. At 20 lbs. of boost he dynoed in at 456whp (his daily set up- yes, he daily drove this.) and a rectum-clenching 697whp at 32 lbs. of boost. Still not enough? How about a built euro spec 6-speed transmission with an LSD? OEM euro grey/black cloth Recaros? Full custom wide body with a molded rear bumper? 14.8-inch front APR racing brakes and dual calipers in back? Yeah, Pat knows his racecars.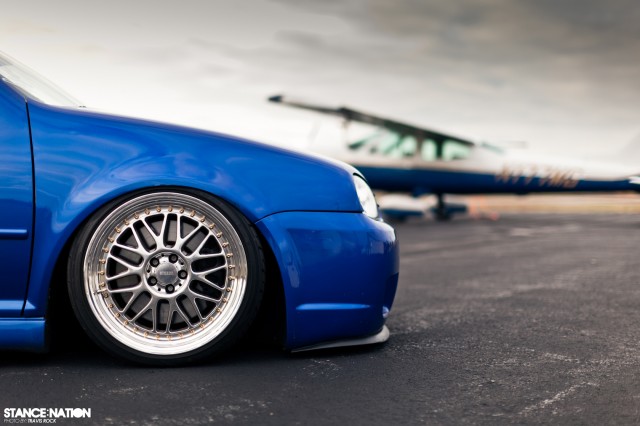 Why the switch, you ask? Pat loved MKIV's. He still does miss his old one, (although he doesn't miss the 7 broken axles at 20 lbs of boost) but loves his .:R32 as a daily. He wanted to go low and get out of the sleigh of death and broken axles he would strap himself into every day on the way to work. He chose a MKIV .:R32 for practicality reasons and to stay in the MKIV game.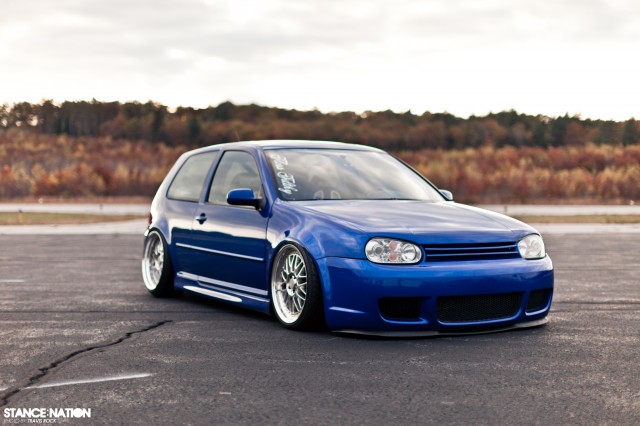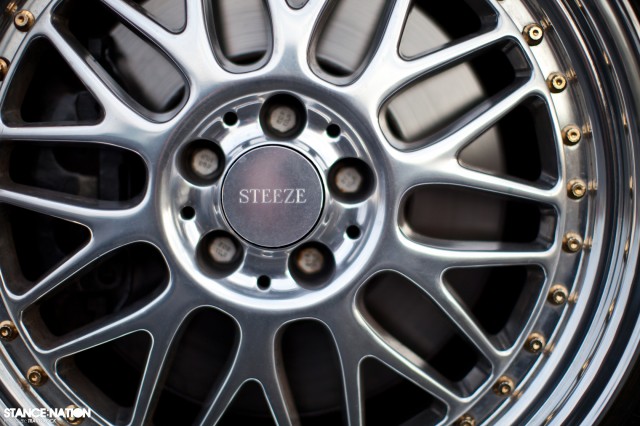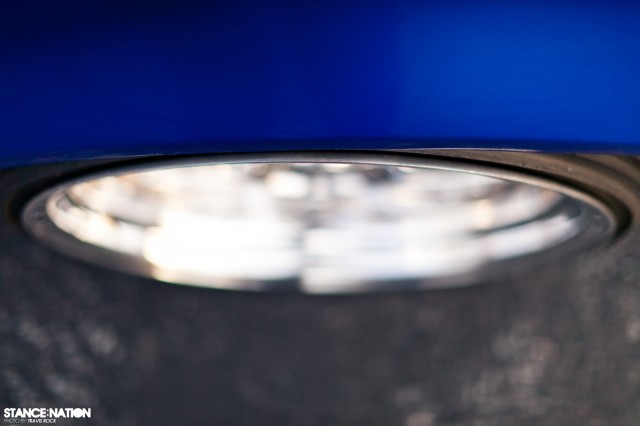 That being said, his .:R is modestly modded under the hood with a simple GIAC 93 chip/tune, EVOMS Cold air intake, short shifter, and a custom exhaust with two turn down tips. Simple, effective, and gives him a little more excitement out of the 3.2L VR6 than a stock one. Exactly what he wanted. So here I give to you, the one and only EastCoastSteeze's .:R32. Fasten your seatbelts, we're about to take off aboard East Coast Steeze Airlines. Above you'll find oxygen in case you begin to hyperventilate from the sight of the Steezemobile, and under your seat you'll find a barf bag to accommodate any sickness you may encounter while hitting any imperfections in the road. Enjoy your journey.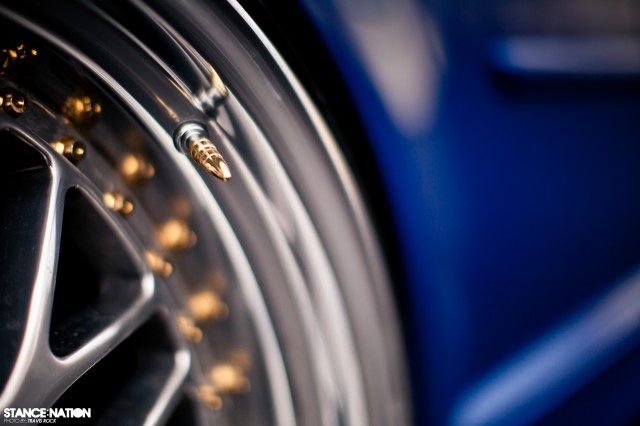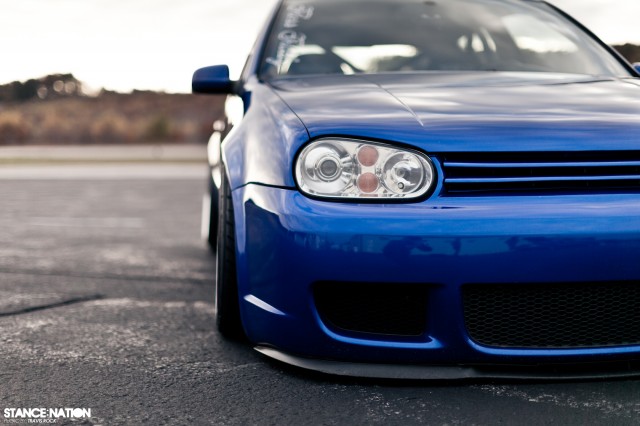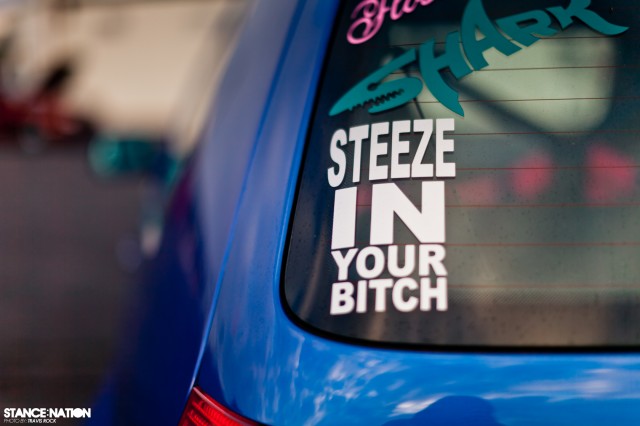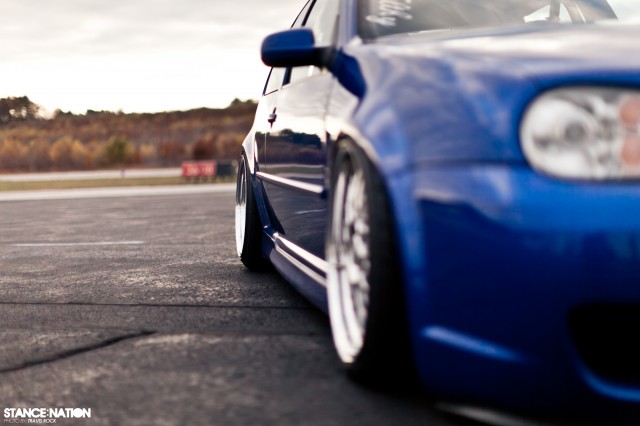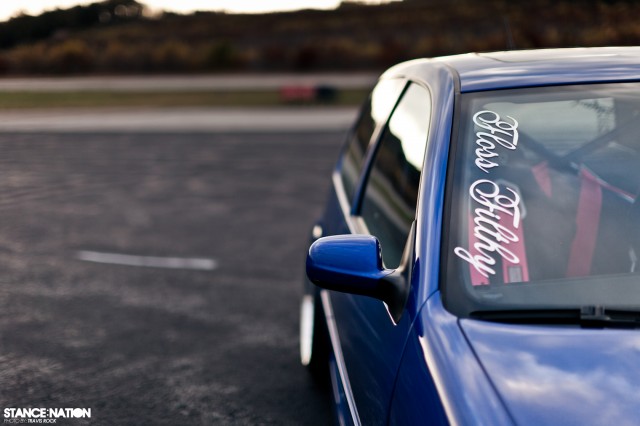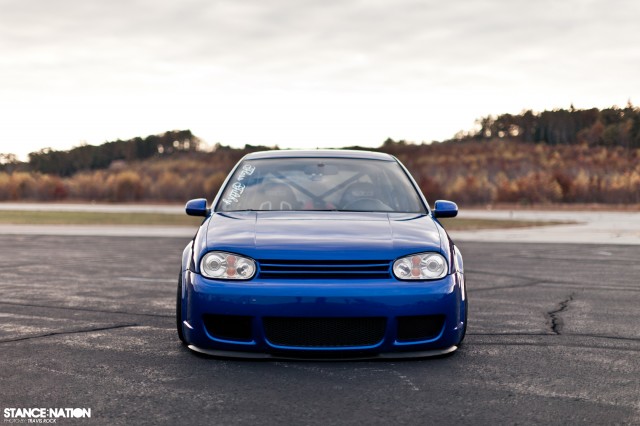 Wheels/Tires/Suspension

Custom Widen Rial Dayton Race Wheels
18×8.5et15 and 18x10et13 with 24k gold wheel bolts
Bagyard air ride
400cc compressor
8 valves
3.5 gallon air tank
Ride Tech digital controller

Exterior

oem hid headlights
oem ocean lightlights
cupra r lip
fully shaved rear hatch
oem euro rline rear bumper
euro R stubby mirrors with blue glass and heated
shaved side markers
filled hood and front bumper
shaved bumper markers
shaved front bumper line
badgeless grill

Interior

Weicher X cage color matched dbp
euro switch with rear fog
W8 console
polished seat caps
flush double din screen
R monster floor mats
leather false floor with a tank cut out
Hot pink 4 point race harnesses
Sparco Milano 2 seats
Nardi Classic Steering wheel
NRG short Hub Adapter
NRG 2.0 Quick release

Engine

custom exhaust with two turn down tips
GIAC 93 chip/tune
evoms cold air intake
short throw shifter
View the full article