A lot of people have been asking me how I installed my Hella horns so here's a quick little how to!
So first off, make sure you buy real Hella's. The ebay ones sound like garbage. What you'll need is some 16-18 guage wire. Whatever you prefer and you'll also need some male and female connectors like these.

Female


Male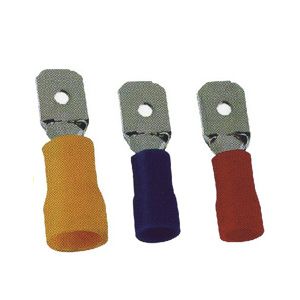 Also, if you've read up on these before, everyone says you need a relay to wire them correctly or you'll "blow a fuse" Wrong, I've had mine in for a good 5 months. I use them all the time and dont have any problems.
 
Okay so for the first horn, It is located behind the grill next to the Mitsubishi emblem. This is for the driver side. Disconnect the wire from the stock horn and take the horn out. For the driver side, you'll only need to make a 1-2 feet negative wire. I always add an extra foot incase you want more wiring for some reason. You can either mount the horn first then wire it or wire it first then mount it. I find it easier to wire it first. Thats another good reason for extra wire. Plug in the stock positive wire onto the new hella horn positive terminal then with the negative wire you make, you plug that into the other negative terminal on the horn then ground it. Your done with the driver side. With the passenger side you'll need to make a 2-3 feet positive wire. The second horn is located behind the bumper near the passenger fog light. You can see it if you take your radiator cover off and look down. You can't miss it. I left my stock horn in there since you can't really see it but with this one, unplug the stock positive wire. Make a newer one about 2-3 feet this way you can run it towards the grill if your mounting it the way I did. plug in the positive wire you made into the stock positive wire. Once you have your second horn mounted, plug in the new positive wire into the positive terminal. Once again, you'll need to make a 1-2 feet positive wire. Once you have that made, plug it in and ground it. The stock horns have one terminal and the Hellas have two. And thats pretty much it. It takes a little bit of adjustments to line the horns up right. Mine are still a little crooked but all you need to do is adjust the brackets supplied. Now your all done. They add a nice look to your car. Have fun blowing peoples ear out!

Here is a picture of how they sit now.